Sidewinder 23rd July 2005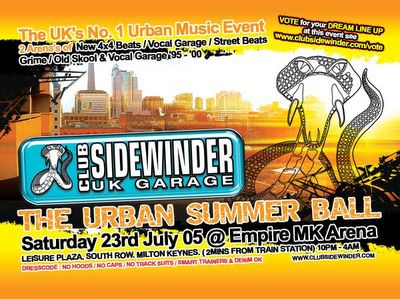 It will return to the Empire Milton Keynes Arena for the traditional Summer Ball event. If you have been to a Sidewinder Summer Ball you will know that this occasion is always a hot night! Not only is the weather normally good at this time of year but also the atmosphere and ladies are usually on fire as well! They continue to push forward their policy of not announcing the artist line up until the event itself so they are able to host the most upfront artists available at the time.
They also think it is important to listen to and respect your choices so they have set up a unique system which allows you to construct your DREAM LINE UP (coughing sound ROLLDEEP!) based on artists, artist combinations and set times.
You can only vote once so please make sure your vote is correct before you submit your entry.
http://www.clubsidewinder.com/vote
Vote Rolldeep!!!